Award-winning GDPR compliant* epayslip & secure file transfer solutions
Epayslip solutions
SSLPost's award-winning, epayslip solutions offer a secure, auditable, GDPR compliant*, cost-saving, electronic method by which you can send PAYE documents including payslips, P60s, P11Ds and P45s.  Salary and HR documents at employee's fingertips; accessible anytime, anywhere and delivered within minutes.
Delivering payslips just got greener;   no postage, no printer consumables, no stationery and no change to existing payroll software.  Visit our epayslip page to learn more.  Are you a SAP user?  No problem!  Click here to read about our solutions for SAP epayslips.
We even have solutions for very small payroll businesses.  Click here to learn more.
Secure file transfer
Do you regularly send personal data either in a standard email or using a password protected file?  Are you concerned about GDPR and are looking for a cost-effective, user-friendly solution?  SSLPost secure file transfer solutions protect your files and documents using enterprise-grade encryption. Click here to learn more about edocument portals.
Ask about our range of GDPR compliant* epayslip solutions and secure file transfer solutions today and start saving time, money and resource. Contact us today to learn more.
*Our epayslip solutions and secure file transfer solutions may be used as part of your organisation's overall approach to data privacy, security and the requirements of GDPR. Data is encrypted at rest on the server and in transit. Secure to International Standards, if used in accordance with the User Guides and any instruction given during training, the solution delivers compliance with the GDPR requirement to use "appropriate technical measures" to protect personal data for the selected application. GDPR and data protection regulations extend to users as well as the software they use and this must be taken into account when assessing risk for this or any other process, within your organisation. 
Secure your epayslips
Your employee's privacy is important to us which is why we use end-to-end, enterprise-level encryption for all our epayslip solutions.  We are proud to be ISO27001 accredited, Cyber Essentials certified and GDPR compliant*.  You can read more about the security of our epayslip solutions here >

The SSLPost epayslip portal saved us time, money and resource whilst retaining the high level of security of personal data we require.
Rania Carr, Mamas & Papas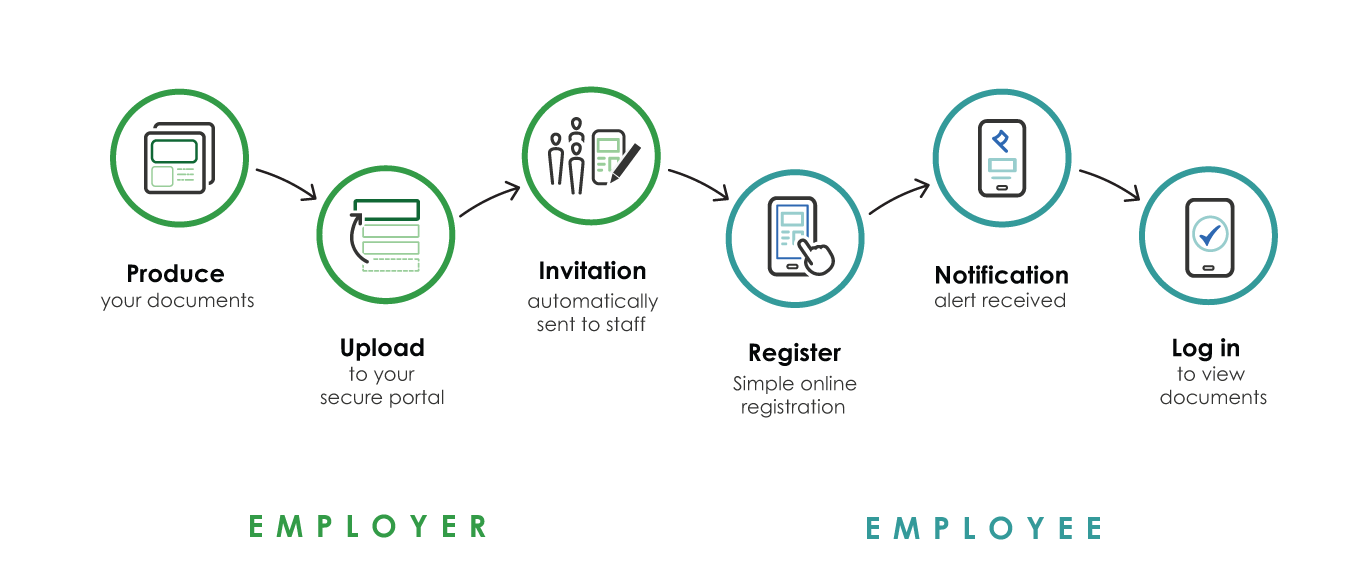 Secure epayslips for everyone
Are your employees based in remote offices or branches around the UK?  Perhaps you have staff abroad, operate a hot-desk or shared workspace policy?  Our award-winning epayslip solutions are ideal.
Staff can access their epayslips wherever and whenever they want via mobile, tablet or desktop, 24/7/365. Meanwhile, your payroll department remains in control via their user-friendly, admin dashboard that includes full audit reporting, as standard.  Click here to learn more about epayslip solutions or read more about SSLPost here>
Environmental benefits
Electronic payslips reduce your carbon footprint and contribute towards your drive for greener, more sustainable business processes.
By switching from paper-based payslips and PAYE documents, you will instantly save on stationery, printer ink, envelopes, postage and delivery; immediately removing the environmental impact of those consumables, from your organisation.
To learn more about secure epayslips and document delivery options, contact us today.