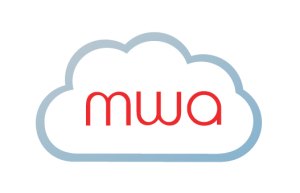 your work stuff, all in one place
A simple solution to manage your workplace applications
Designed for mobile use,myworksapp from SSLPost, enables employees to access all their key workplace applications in one place via a simple user interface.
Many people prefer to access websites and logins via apps on their mobile devices. myworksappenables them to do this from one, simple screen. myworksapp enables users to access a controlled subset of information that is defined by the organisation; linking via single sign-on to avoid multiple logins, where feasible.
Rather than searching through their apps to find what they are looking for amongst the icons, they simply open myworksapp on their mobile and access epayslips, P60s, P11Ds, HR and auto enrolment communications, work emails, secure email, workplace pension, employee benefits, HR portal or intranet logins.
Users can also receive notifications via pop up message on their mobile device, when a new document is posted to their portal plus receive one time tokens for 2 factor authentication, personal, group or all employee messages sent by administrators.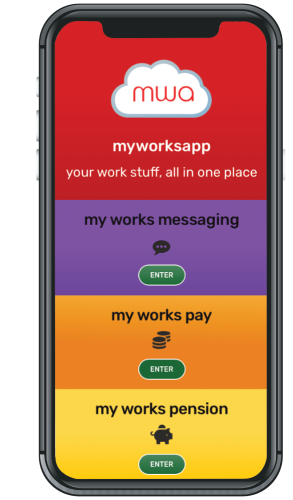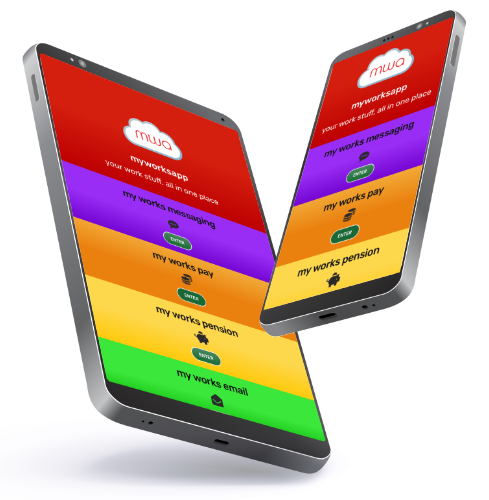 myworksapp benefits
Access to all workplace applications in one place
Fantastic solution for those on the move, working remotely or multi-branch workers
Easy and intuitive to use
Suitable for all devices – mobile to desktop
Convenient, 24/7/365 access with device and internet connection
Distinctive favicon for home screen/desktop
Secure and safe
Hosted on secure servers at ISO27001 and Cyber Essentials certified provider
Supports single sign on
Option for employee, group or all employee short communications via pop up messaging
Option for two factor authentication (2FA)
Option for employee benefits package via

my

pay

rewards

or

salary sacrifice schemes
Option to link to secure email via employee portal – no company email address needed
User interface designed with user ease-of-access requirements in mind.
More about some of the options mentioned above
Control, management and integration
Employee portals, users, messages and documents are controlled and managed through the in-built administrator dashboard.
Monitor receipt, administrator and user actions, via simple audit reporting.
Secure email can be sent from an office desktop using SSLP 365 Add-in for Microsoft Outlook 365.
Send messages, personalised and non-personalised documents to one person, a group or the entire organisation.
SSLPost and myworksapp solutions are able to integrate with any 3rd party accounting, payroll, HR or email software, including SAP.
Stamp out the cost of expensive email licences!
Users of myworksapp alongside employee self-service portals, do not need a company email address and associated email client licence to send and receive secure, work-related emails. Ideal for blue collar and remote workers, email is accessed via the secure employee portal, substantially reducing licencing costs.
Short messages can easily be sent to individuals, groups or companywide via pop up messaging to their mobile device.
SSLPost secure email can be used instead of, or alongside your existing email system, providing reliable email in case of primary email platform outage – ideal for business continuity plans.
myworksapp

employee engagement platform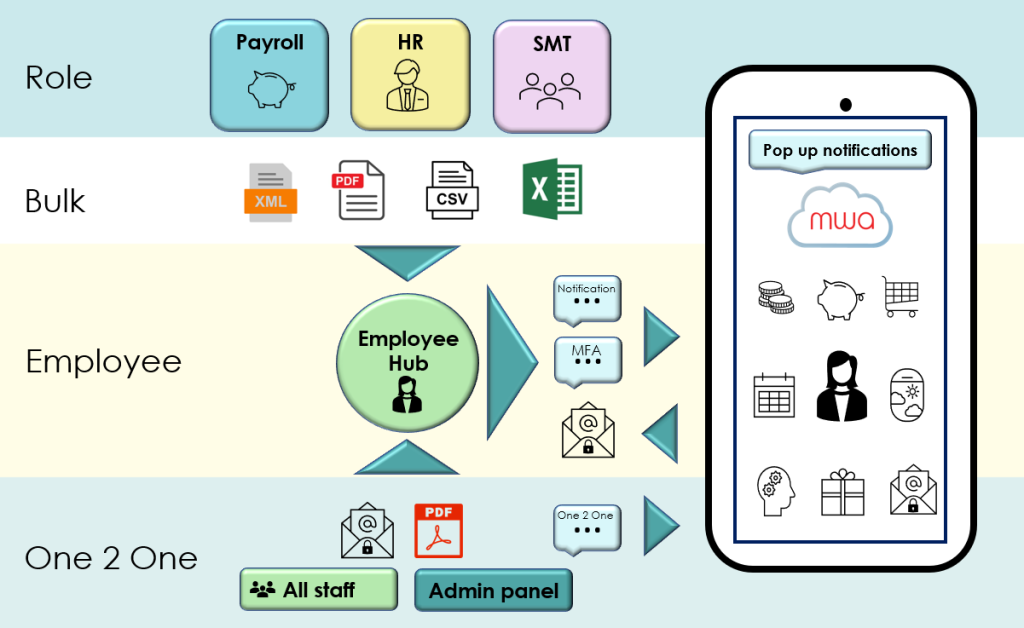 What's in the full solution package?
Our solutions are available separately or in any combination to suit your company requirements. You can integrate your third party services into myworksapp or choose our full package that includes all the necessary elements to enable you to fully engage with your staff:
myworksapp, simple user interface
Secure, encrypted employee hub for documents including payroll & HR – individual or in bulk.
SSLPost Secure-Send software for simple bulk import of documents
Administrator dashboard for control and management
Pop up messaging to individual, group or all employees
Document approval function

my

pay

rewards

employee discount scheme
Salary sacrifice schemes for larger purchases
Talk to us today to learn more about how SSLPost can enable highly cost-effective solutions for all your staff engagement requirements.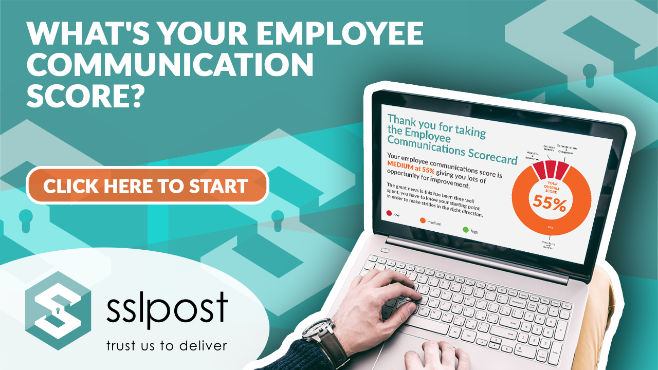 Whether you are looking for greater employee engagement or a more secure method to exchange private documents with your workforce or clients, SSLPost's quiz will help you understand the strengths and weaknesses in your current communications process and provide the necessary foundations for you to build successful outcomes.
Pop in your contact details and we will email your results and our recommendations in a detailed report, once your quiz has been completed.
Grab a coffee and spend a few minutes taking our quiz to learn more!