Approval and acceptance of important documents using our quick and easy digital document approval solution
If you need employees to confirm acceptance of contracts, agree terms and formalise their compliance with policies, our digital document approval solution is ideal.
No more time-consuming paper exchanges, piles of filing or printing and posting.
You can also use our digital document approval solution for timesheets, offer letters, staff on-boarding and much more!
Adding digital document approval to my existing solution
Your portal already provides you with tracking of distribution, receipt and opening of documents but if you need that little bit extra, add digital document approval to your existing solution.
You can upload single documents or documents in bulk, quickly and easily. Each digitally approved document is sealed with a date/time/IP/browser stamp for easy and quick confirmation.
Digital document approval is so easy to use and provides faster results than traditional methods. Administrators can import, view, track responses and download approved documents from their admin dashboard.
What if I don't have one of your portal solutions?
If you do not currently have our secure portal solution in place and use other methods or a different provider to deliver pay documents such as payslips, P60s and P11Ds online, we can still help.
Our portals provide a secure environment for the management and storage of all types of documents. If you have a document portal in place via another provider we can still help. Using single-sign on your user can move between portals seamlessly, using a one off login. Add in our easy-to-use mobile app, myworksapp and your user can access multiple portals and work related applications, all in one place.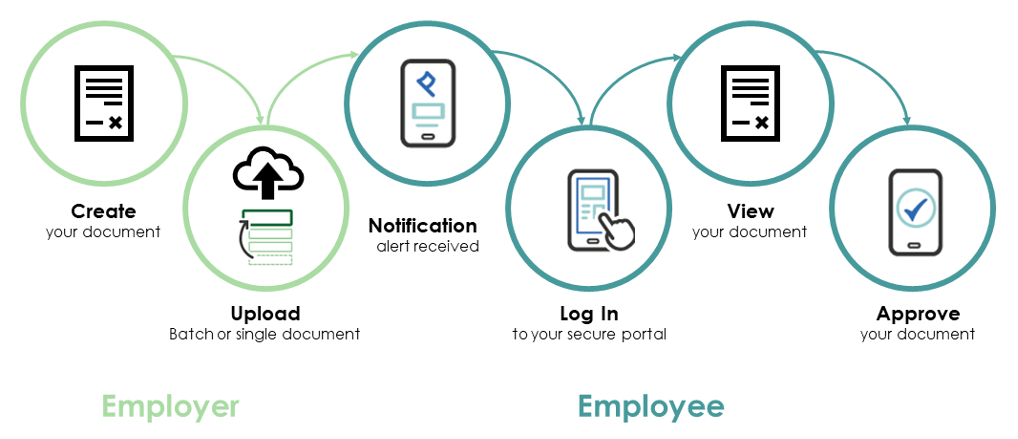 "Your team are always super helpful and flexible, a real credit to the company and I enjoy working with them."
Making compliance easy
Security of personal information is vitally important to protect your staff's privacy and maintain compliance with data protection laws.
When you choose an SSLPost solution, you are choosing to secure your data using enterprise-level encryption. Whether the data is in transit between a business and an employee or at rest on the server, your data is locked up tight using one of the best encryption technologies available in the world today.
Whether you are looking for greater employee engagement or a more secure method to exchange private documents with your workforce or clients, SSLPost's quiz will help you understand the strengths and weaknesses in your current communications process and provide the necessary foundations for you to build successful outcomes.
Pop in your contact details and we will email your results and our recommendations in a detailed report, once your quiz has been completed.
FREE SECURE EMAIL account with every completed quiz*.
Grab a coffee and spend a few minutes taking our quiz to learn more!
*New secure email customers only. Standard email account requires a quick and simple registration process to set password prior to use.