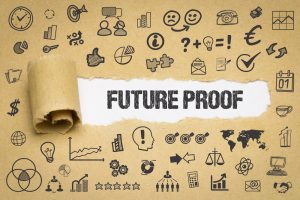 Future-proofing refers to the proactive approach of designing and implementing strategies or systems that can adapt and remain relevant in the face of anticipated or unforeseen changes in the future. It involves anticipating and considering potential shifts in technology, trends, and other factors that could impact the longevity and effectiveness of a particular solution.
Future-proofing aims to create robust and flexible frameworks that can withstand the test of time, minimizing the need for significant modifications or replacements down the line. By embracing innovation, scalability, and adaptability, future-proofing fosters resilience, ensuring that businesses, organisations, or individuals can thrive and stay ahead in an ever-evolving landscape.
With that in mind let's look at how SSLPost can help you to future-proof your processes.
One major issue that causes an increased workload is a lack of flexibility. Some of our competitors supply payslip portals, as a way of distributing payslips, P60s and possibly P11Ds, free with their payroll software. However, you will find that, as their portals are payslip specific, you have to find another separate means of distributing all other documents that employees need.
Initiating different distribution methods for all the different communication, such as contracts, policies, pay rise letters, HR letters, as well as any other notes, letters and documents an employer sends to their staff every year can be time-consuming inefficient and costly. Setting up bulk emails, separate mailing lists, logging into and posting on to company intranets, memorising the various passwords for all the systems or even distributing hardcopy which usually results in many copies being ignored or lost.
SSLPost edocument delivery portal allows you to securely send confidential, time-critical personalised or non-personalised documents in bulk or individually. In addition, with Digital Document Approval, they can be added and then approved by the recipient. Even the largest files can be transferred securely, over the internet, via the portal without impacting on your email flow.
You can create secure libraries and repositories for operations, contracts, employee handbooks & policies, planning & development, pensions, legal and human resources or a Subject Access Request Portal for GDPR compliance. No more going to HR or compliance to find a policy, letter or document. No more multiple requests for lost documentation.
All the documents exist on the portal and all the sent items can be accessed in a permanent location by staff. They can be pulled up and viewed without searching through emails, they can be downloaded and they can be accessed via laptop, desktop, mobile phone or tablet anywhere, any time and any place that the employee wants.
Contact us to find out more and set yourselves up for the future.